In the very first class from Hello Party, you will learn all you need to know about creating perfect show-stopping balloon clouds every time.
I'm Lou, the founder of HelloParty.com and an avid balloon enthusiast! I will be teaching you the fundamentals of what I like to call, Balloon Clouding. This special technique is what I use to make these impressive displays and I'll show exactly how you can do it too.

Get immediate access to the class to watch any time, anywhere and as many times as you like.

This is the finished installation that we create during the class. So you will see how to make this from start to finish.
This class will teach you the fundamentals of how to create a wonderful Balloon Cloud, from start to installation and get perfect results every time.

Essential Supplies & Equipment
An overview of the tools and supplies you need. Don't worry it's not a long list! I show you the tools you need to make your job easier, more efficient and they don't cost a fortune. I'll also cover what NOT to use to keep your installation as eco-friendly as possible.

I'll show you the different types, finishes and sizes of balloons so you know which are the best for your installation and how to choose the right ones for any design.

This is probably my favourite section - showing you how to create your own range of colours just using balloons!
You'll be able to create and endless palette of balloons to match any theme.

What a lot of other courses leave out, but not here. I give you some background on how to create your design and talk about scale, colour and texture to give you the basis to create the perfect balloon cloud every time!

Showing you the correct way to inflate your balloons and how to put them together to form the building blocks of your cloud. This will form the foundation of your structure so it's important to get it ight!

The Hello Party
Clouding Technique
The section you are here for! I show you the exact technique I use to create wonderful balloon clouds of any size, shape, or for any location. I also show you how to fix a couple of common mishaps along the way.

Lastly, I'll show you the easiest way to hang your creation.

At the end of the class you'll be able to create a balloon cloud installation from scratch and make it perfect every time!
You will also get a PDF download containing handy charts, colour info and key points and from the class.
Original price £120. That's a saving of £61.
Become a 'balloon clouder' today! 🎈

No previous experience necessary.
This class is intended for all you wonderful creative, DIYers who love to craft, celebrate and create unique parties.
It is also suitable for Balloon Professionals who want to expand their skills. Although this isn't a professional accreditation nor is it meant to be, anyone who is starting out in their balloon business will get a wealth of info here. You will learn a professional technique that will only add value to your offering.
Our happy balloon clouders

The image is the AMAZING installation that Sarah created after watching the class. Thank you for sharing Sarah.
"Just finished Lou's balloon class & I now can not wait to get going with my next balloon cloud!
It's so informative & goes above and beyond what I imagined. It's a MUST HAVE if you want to learn the art of creating those Instagrammable balloon clouds. Lots of insider knowledge, tricks and tips which are time-saving, not to mention fun. All of which I can view any time from home!
Thank you Lou for this master class of brilliance.🎈"
"I cannot wait to use some of my new Tuftex balloons to create my balloon cloud/garland.


I already know a bit about creating clouds and garlands but it is so nice to see how others work and gather new tips along the way! I love the way Lou uses colour and texture and the bit about customising colours is amazing!!
This is such an informative class and very professional and I would most definitely recommend this to anyone."
"I loved the class! It's packed with secrets of the trade and Lou reveals a completely unique (and easy to understand!) technique for assembling the balloon clouds. I feel confident I can now create the dreamy, high impact balloon installations that you see all over social media!🎈
I highly recommend this course whether you are a complete beginner or someone already working in the industry."
Now is the perfect time to learn a new skill. Just in time for when parties and gatherings are allowed again. When they are, you can unleash your amazing balloon creations and everyone will be envious of your new talent.
Click add to cart below to purchase.

I'm Lou, the founder of HelloParty.com and I believe balloons are the key to any celebration.
I love to be creative and have always had a passion for crafting and making. I'm often trawling Pinterest looking for inspo and have spent £1000s on classes and courses to learn new skills. Now I want to put all I've learned together to help you create the most amazing balloon creations every time using my simple 'clouding' technique.
I believe in creating beautiful balloons for every and any occasion! It's not a party without balloons, right? I've created the class I wish I had when I started out. I'll share with you the wealth of knowledge at a fraction of the price so you can create the best balloon displays ever.
So whether you want to learn for fun or for starting your balloon business, I'm here to support you on your balloon journey! I'm excited to be your Balloon Clouding Coach!
Lou Boyer
Founder of HelloParty.com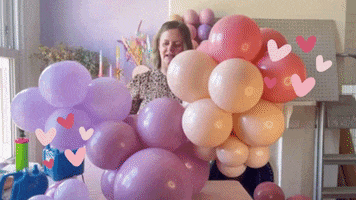 No problem, just drop me an email and I'll be happy to help!